Fancy Pansy – Your Ideal Florist in Avon, CO for Any Occasion
Flower arrangements are beloved additions to any occasion. Whether you're planning a big gathering like a family reunion or a wedding, or if you are just having a small get-together for your birthday or Christmas, you'll find that livening up your space with a little color from your favorite blooms will go a long way! Flower arrangements are not only perfect as gifts, you should always consider them when planning an event to make it extra beautiful and special.
Are you having or arranging a wedding soon? Think about everything that goes into planning and executing such a large-scale floral decor. The process can be quite stressful. No worries, we've got you covered! We are the best florist in Avon, CO! We'll make sure your venue is appropriately decorated and that the bride will have the unique bouquet she always wanted. We'll help you add those little touches and details to make the big day extra special.
Our florists are dedicated to providing our customers with fresh, beautiful displays for small gatherings and occasions, too!
Even if you have never set foot in a flower shop, you know that a flower arrangement is a wonderful gift on anniversaries, birthdays, Mother's Day, Valentine's Day, Christmas, and more. Having it delivered can elicit a joyful reaction from anyone who received it and witnessed the delivery. Flowers are both a physical and emotional gift. It's the best way to express your love and appreciation.
Moving arrangements between venues and locations can also be a hassle.
You can wind up having to deal with traffic or flower arrangements falling over inside your vehicle. What if you don't have an open schedule that will allow you to pick up and deliver your orders? Seeking out a little help from the best florist in Avon, CO can make things a lot easier! Our delivery option is much more convenient! This will not only save you time but also money!
Fancy Pansy provides services to nearby communities as well, including Vail, Edwards, Beaver Creek, and Minturn.
Adding a little pizzazz to an event with help from the best florist in Avon, CO can help ease your mind and lighten your load so you can care for other things and fully enjoy your special occasion.
Fancy Pansy has been creating innovative floral designs for years now. Frankie, the owner, is passionate about working with flowers. Her originality and outstanding leadership have made the company the best choice for a florist in Avon, CO, and other nearby areas.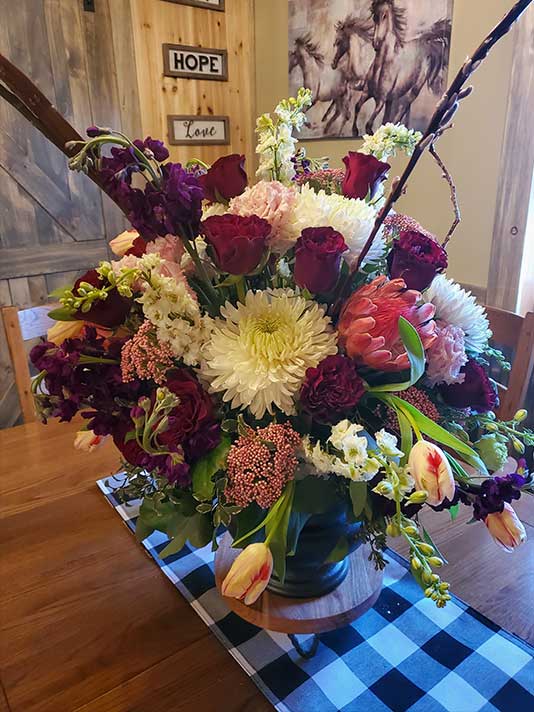 These are just a few benefits you can enjoy when you order flower arrangements from Fancy Pansy.
Again, whether it is for a large-scale event or just something small or intimate, we can ensure a satisfactory result!