Surprise Someone Special with a Grand Bouquet on Valentine's Day!
They say flowers are the language of love and they rightfully are. Flowers are the best way to say "I love you" to someone special in your life. And what better day to give flowers to a special someone than during Valentine's Day or the day of love. Having an unexpected delivery of beautiful flowers will surely make a person feel surprised, special, and cherished.
However, most people rarely know how to arrange flowers. But don't worry, Fancy Pansy is here to help you express that love you have been wanting to share with that special someone. We make sure that every floral arrangement we create for Valentine's Day reflects how much you love the person and how important he or she is to you. We don't just arrange flowers; we make sure to create arrangements that exemplify how our clients feel. If you choose to have us prepare your flowers for Valentine's Day, here are some things you can expect.
At Fancy Pansy, we pay attention to every detail. Every part of your arrangement up to the smallest flower bud is handpicked by our expert florists. We make sure that every flower arrangement we create is unique to each client. How do we do this? Not only do we vary our designs for every floral arrangement, but we also make sure that it reflects the personality of the client and how he or she feels or what he or she wants to express. This way, each floral arrangement is uniquely tailored to you.
Dedicated and Experienced Staff
At Fancy Pansy, the owners bring a lot of years of experience in the floral arrangement business. Not only that, we have worked with and arranged flowers for several occasions ranging from birthdays to weddings, and a lot more. Floral arrangements are a genuine passion we all have and we take pride in every arrangement we create. Our staff would very much love to entertain you, to answer your questions, and to determine what would be the best design for your Valentine's Day floral arrangement. We give every customer personal attention, something that seems to be missing with big flower shops in the industry.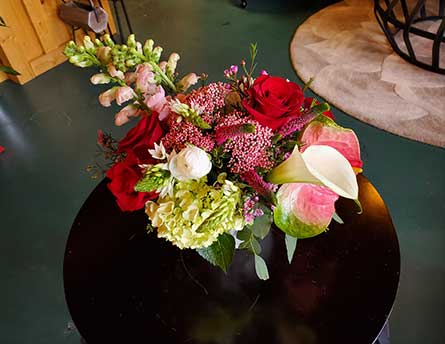 Flowers are the centerpiece and the main attraction in a floral arrangement. They are the most important part. As such, with Fancy Pansy, we assure our customers that we only use fresh flowers in their floral arrangements. We make sure that when the flowers you ordered are delivered, they are in their peak blossom, making them look as beautiful as possible. Not only that, we carry a wide variety of flowers to choose from. Because of this, you can opt for the more traditional flowers like roses or lillies or you could go with the unique ones which will surely catch the attention of the person you are giving it to.
The 14th of February has become a very important date around the world.
It has always been a tradition to give flowers to someone special in your life to express your love for them. Get help from some of the finest florists in Avon, CO to create the perfect and most beautiful bouquet for your loved one! Call us at Fancy Pansy or drop by our shop to learn about the different floral arrangements available!